Staff Partners at the Cancer Coalition of South Georgia
The EPRC works closely with the Cancer coalition of South Georgia.  Staff Partners at the Cancer Coalition are often the face of EPRC in South Georgia.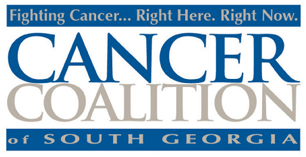 Denise Ballard serves as vice president for Cancer Prevention and Control at the Cancer Coalition of South Georgia, where she brings more than 20 years of experience in community education, health promotion and disease prevention, with an emphasis on efforts to reduce health disparities. Currently, Ms. Ballard provides administrative and programmatic oversight for Emory Prevention Research Center activities conducted in South Georgia, directs the Cancer Coalition's Center to Reduce Cancer Disparities, and provides leadership for the Cancer Coalition's nationally-recognized Community Cancer Screening ProgramTM, a collaborative of healthcare providers that offer affordable early detection and follow-up services to the uninsured. Ms. Ballard holds an undergraduate degree in Communications and a Masters of Education in Instructional Technology, both from Wayne State University, Detroit, Michigan.
Tarccara Hodge serves as the Lead Research Specialist with the Cancer Coalition. Born in Chicago, IL and raised in 29 Palms, CA, she moved to Albany when she was 12. Prior to joining the Cancer Coalition, Tarccara worked with the Albany Advocacy Resource Center, Far Horizon Montessori School, as a Center Director with Children's Friend Learning Center, and with the African American Men's Project at the University of Georgia's Center for Family Research. She received her Associate of Science degree from Darton State College.