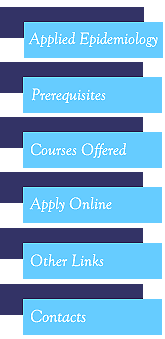 Courses Offered Control of Coronaviruses with Public Health Preparedness, Applied Epidemiology, Public Health Surveillance workshop
March 21 - 26, 2021 (Online course via zoom.us) Time: 10am - 3:30pm (PST); 1pm - 6:30pm (EST)
COVID-19 Control and Mitigation with epidemiology and surveillance case studies
April 27 - 30, 2021 (Online course via zoom.us) Time: 10am - 3:30pm (PST); 1pm - 6:30pm (EST)
Public Health Preparedness, Mitigation and Control of COVID-19
May 24 - 27, 2021 (Online course) Time: Time: 10am - 3:30pm (PST); 1pm - 6:30pm (EST)

Surveillance in Public Health Course
April 19-23, 2021 (Online course via zoom.us) Time: 11am to 7pm (EST)
Epidemiology in Action with R Studio training
June 14 - 25, 2021 (Online course via zoom.us) Time: 11am to 7pm (EST) International Course in Applied Epidemiology with R Studio training
This course is on hold due to COVID-19. We will schedule when obtaining USA visa becomes possible once again.



Upcoming course: R Studio: Analysis and Interpretation of Public Health Data(s)
TBA - we can schedule when there are at least 10 people available from your organization.

This two-day course is directed to public health professionals who wish to learn the R programming language used in data analysis, data manipulation, graphics, statistical computing and statistical analysis Customized Courses
We can design training programs for a selected group of individuals. Date/time is flexible. Rates are lower compared to regularly scheduled classes. We can teach online, via zoom or we can hold the course here in Atlanta,
or bring the course to you onsite, anywhere in the United States, or overseas. Apply by clicking the link of the chosen course(s) above
Withdrawal Policy


Please note: Interpretation services for language and disability impairements are not available for these short programs

Emory Professional Education makes every effort to assure a quality learning experience. If you choose to withdraw from a course, please notify us in writing (via email, fax or U.S. mail), before 5:00 p.m., thirty (31) days prior to class start date. Payment will be reissued, less $100 processing fee and wire fees ($45-60). Full credit, 100% of payments can be used towards any of our courses and can be transferred to another student as authorized by the payer. Registration fee for the International course in Applied Epidemiology is non-refundable.

Failure to attend class or stopping payment on a check or credit card does not constitute withdrawal. A $30 fee will be charged for returned checks and stop payments.
Cancellations If we cancel a course for which you are registered, you are eligible for transfer into another course or a full refund. Course Transfer You may transfer a course registration once, within the guidelines of the withdrawal policy. If you fail to attend the class you transferred into, you forfeit the full course tuition.
Refunds All refunds will be made in the form of the check or wire transfer. Please allow up to four weeks to receive check refunds. Click on the specific course to find out detailed information!

Return to Home Page