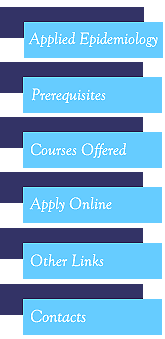 Public Health Surveillance
Course Dates May 14-18, 2018
Deadline: May 1, 2018 or until filled
"Please note, after the deadline applicants will be accepted on a space-available basis."
Cost Registration Fee: $850
(Covers tuition fee, course materials, and supplies.).
Housing and other travel expenses are NOT included.
Course Description
The course includes an overview of public health surveillance, history of public health surveillance, considerations in planning public health surveillance, sources and collection of data, analysis and interpretation of surveillance data, communication of surveillance data, technology of public health surveillance systems, evaluation of public health surveillance activities, ethical and legal issues in surveillance, state and local issues in surveillance, surveillance issues in developing countries, and future considerations.
Prerequisites
There is no pre-requisites required however, it is recommended that participants have completed an introductory epidemiology course, such as the Emory University/Centers for Disease Control and Prevention two-week course, Epidemiology in Action or four week International Course in Applied Epidemiology. CDC offers a self-study course, Principles of Epidemiology which would provide the requisite background information. Participants should also have some practical experience in public health and professional responsibilities for surveillance activities.
Sample Agenda PHS Agenda
Course Location

Emory University
Rollins School of Public Health
Hubert Department of Global Health
1518 Clifton Road, Claudia Nance Rollins Bldg. Room 6001 (6th Floor)
Atlanta, Georgia 30322
List of hotels around Emory/CDC: Housing List
Course Topics
Overview and history of surveillance systems
Planning considerations
Sources and collection of data
Analysis of data
Interpretation and communication of data
Evaluation of surveillance systems technology
Ethics and legalities
State and local concerns
Future considerations
Click to apply for this course.

Return to Home Page