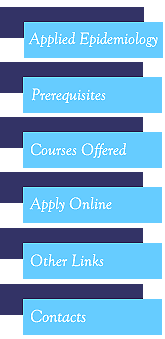 Epi Info 7 (Developing Public Health Software Applications)
Course Dates

Basic to intermediate level: June 23-26, 2016
I
Deadline: June 1, 2016
"Please note, after the deadline applicants will be accepted on a space-available basis."
Cost $800/person per session
(Covers tuition, computer laboratory, manual, & other course materials).
Housing and travel expenses, not included in this fee.
Course Description
This 4-day course will provide hands-on experience with Epi Info 7, programming Epi Info software at the beginning level and intermediate/advaced level; using Epi Info 7 to develop public health data systems. Basic course covers Makeview, Enter, basic Checkcoding, basic Analysis and Epi map modules. Intermediate to Advanced level cover Data management, Advance Analysis, Epi Map and Report modules.
Who Should Attend
Public Health personnel with intermediate skills in computing. Prior Epi info experience is not required for this course.
Sample Agenda Epi Info
Course Location

Emory University
Rollins School of Public Health
Hubert Global Health Department
1518 Clifton Road, CNR 7038
Atlanta, Georgia 30322
List of hotels around Emory/CDC: Housing List
Click to apply for this course.

Return to Home Page