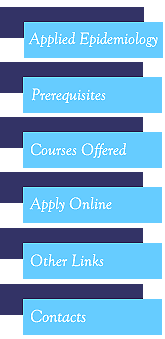 Applied Epi Info Training: Developing and Customizing your own Public Health Computer System (s)
Course Dates June 18 - 20, 2018 (3-day) Cost: $500/person (3-day training)


Click to apply for this course.
Fees cover tuition, computer laboratory, manual, & other course materials
Housing and travel expenses, not included in this fee.
Course Description
Applied Epi Info training provides hands-on experience with Epi Info. We will teach you to personalize and customize your own public health data systems using epi info software.. This hands-on-course intermediate to advanced level Epi Info training will cover data base programming, data management, advance analysis, epi map and report modules. Prerequisite: You must know how to use Epi Info already but if not, you must complete a basic course on your own. Review materials will be provided to those who are already registered in the course. Basic prereq: Makeview, Enter, basic Checkcoding, basic Analysis and Epi map modules.
Who Should Attend
Public Health personnel who wish to analyze public health data using the Epi Info program. Prior Epi info experience IS required for this course.
Course Location

Emory University
Rollins School of Public Health
Hubert Global Health Department
1518 Clifton Road, Grace Crum Rollins Bldg. Room 105
Atlanta, Georgia 30322

Contact: Pia Valeriano,MBA

Email: pvaleri@emory.edu

Phone: 678-516-1656



List of hotels around Emory/CDC: Housing List

Return to Home Page