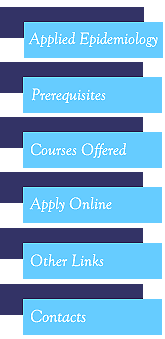 Epidemiology in Action with Introduction to "R Studio"
Course Dates June 14 - 25, 2020
Deadline: June 1, 2020
"Please note: Zoom ID and password will be sent directly to registered participants"
Cost Registration: $2200 (discounts given when registering more than one at the same time)

Textbook NOT covered.
Course Description
This basic course in epidemiology directed at public health professionals includes discussions of applied epidemiology and biostatistics, public health surveillance, field investigations, hands-on computer training using R Studio, and selected prevalent diseases. Table-top exercises/case studies will be worked on to apply epidemilogic theories discussed. Prerequisites: Familiarity with the vocabulary and principles of basic epidemiology. Participants are recommended to complete CDC's Principle's of Epidemiology self-study course or equivalent course in basic epidemiology
Course Topics
Descriptive epidemiology, Ecology and biostatistics, Analytic epidemiology
Epidemic Investigations, Public Health Surveillance
Causation, Screening
Surveys and Sampling
Interpretation and communication of data
Disease Control Prevention and Eradication
Special topics such as Emerging Infections, Public Health Preparedness and Bioterrorism, Informatics and Health Information Systems, Immunizable Diseases, Chronic Diseases, Writing Successful Abstract, Epidemiology of Opiod Abuse and Addiction, Corona Virus (SARS, MERS, COVID19, Epidemiology of Foodborne Diseases, Importance of Microbiome, Epidemiology of Influenza
Basic R-Studio hands-on training)
Sample Agenda Final Agenda.pdf
*Special topics are subject to change

Please note: Interpretation services for language and disability impairements are not available for these short programs



Click to apply for this course.

Return to Home Page