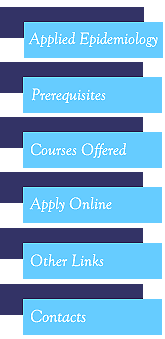 Epidemiology in Action with Epi Info Training
Course Dates June 3-14, 2019
Deadline: May 1, 2018 -- please note that late registration may be opened if spaces are available
"Please note, enrollment is limited. After the deadline applicants will be accepted on a space-available basis."
Cost Registration Fee: $2000
(Covers tuition, materials and supplies)
Housing and other travel expenses are NOT covered.
Course Description
This basic course in epidemiology is directed at public health professionals and includes discussions of applied epidemiology and biostatistics, public health surveillance, field investigations, hands-on computer training using Epi Info (latest version), and selected prevalent diseases. Epidemiologic case studies are worked on in the classroom. Prerequisites: Familiarity with the vocabulary and principles of basic epidemiology; participants are recommended to complete CDC's Principle's of Epidemiology self-study course or equivalent.
Sample Agenda Agenda Final 2017_1.pdf
Course Location

Emory University
Rollins School of Public Health
Hubert Department of Global Health
1518 Clifton Road, Claudia Nance Rollins Bldg. (7th floor)
Atlanta, Georgia 30322
List of hotels around Emory/CDC: Housing List
Course Topics
Descriptive epidemiology and biostatistics, Analytic epidemiology
Epidemic Investigations, Public Health Surveillance
Causation, Screening
Surveys and Sampling
Interpretation and communication of data
Special topics such as emerging infections, bioterrorism, & public health preparedness
Epi Info training (latest version)
Discussions of selected prevalent diseases