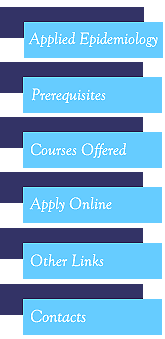 About Applied Epidemiology

A major activity at the Centers for Disease Control and Prevention since its development in 1949 has been the training of epidemiologists through the Epidemic Intelligence Service (EIS) Program. Trainees begin their two-year tour of duty in July and immediately are immersed in a three-week course in epidemiology and biostatistics that prepares them for hands on epidemiology experiences over the next two years. Initially, non-EIS officers were welcomed into the course and eventually a large number of public health professionals from the United States and other countries participated as visitors in the three-week course.

In the early 1980s it became apparent that the course had become too large and the number of visitors taking the course infringed upon its initial objectives which were to provide training to the incoming EIS officers in both epidemiology and public health surveillance. Accordingly, two separate courses, one for public health workers from the United States and one for international public health workers were developed in order to accommodate non-EIS officers in applied epidemiology and public health surveillance.

The two week Epidemiology in Action course was developed for public health professionals from the United States.

The four week International Course in Applied Epidemiology was developed for public health professionals from other countries.

Initially these two courses were planned and offered solely by CDC but after several years, they determined that they could not be the sole sponsors of these courses due to increasing responsibilities in their programmatic areas. Accordingly, the Rollins School of Public Health of Emory University (RSPH) assumed the responsibilities for organizing and offering these courses in collaboration with CDC.

Recognition of the third course, Public Health Surveillance was developed due to the increasing importance of surveillance in the control and prevention of diseases.

All classes are held at Rollins School of Public Health, which is next to CDC. Staff from CDC participate in giving lectures, leading discussions and in proctoring the applied epidemiological case study exercises conducted in the classroom. Epidemiology in Action is offered annually in the Spring and the International Course in Applied Epidemiology is offered in the Fall.

The Public Health Surveillance course has proven to be popular and is offered once a year in the spring. The CDC text book, Principles and Practice in Public Health Surveillance (2010), authored by CDC staff is used in the course.

Another course we offer Developing Public Health Software Applications using Epi Info focuses on the utilization of Epi Info and its applications in public health. An introductory and an Intermediate to Advanced Level courses are offered annually in the Spring.

Lastly, Customized Courses are often developed to meet the training goals and objectives of specific countries or agencies. These are of variable length and content (3-days to 4 weeks), and are developed according to the needs and interests of the group involved. Customized courses conducted include: • Polio & Measles Eradication for Chinese Medical Experts. • Epi and HIV/AIDS Course for Japanese Medical Experts • Newly Independent States Epidemiology and Biostatistics • Epidemiology and Biostatistics Course in Cairo, Egypt • Epi and Health Management for Indian Physicians • Epidemiology in Action for Chinese Public Health Professionals • Epidemiology in Action' courses held in: Ho Chi Minh City, Vietnam; Hanoi, Vietnam; Malaysia (2x); Phnom Penh, Cambodia; Augusta, ME; Salt Lake City, UT (2x); Boston, MA (2x); Burlington, VT; Nashville, TN; Bismarck, ND; Indianapolis, IN; Wauwatosa, WI; Harrisburg, PA; Denver, CO (2x); Milwaukee, WI; Hong Kong, China (2x); Charleston, WV; Clearwater, FL; Jackson, MS; Tallahassee, FL; Pretoria, South Africa; Nairobi, Kenya (2x), Abuja, Nigeria, Orlando, Florida, Tbilisi, Republic of Georgia. • Epi Info (3 or 5 day courses) held in: Mexico City, Mexico; Jefferson, MO; San Antonio, TX; Little Rock, AR; Denver, CO; Durango, CO; Hartford, CT; Omaha, NB; Cheyenne, WY (2x), Chicago, IL, Phoenix, AZ, Honolulu, Hawaii, Hong Kong, China (2x), Anchorage, AK (2x), Columbus, OH, San Juan, Puerto Rico, Des Moines, Iowa and Arlington, Texas. . Customized courses may be held at either the RSPH site or in the group's worksite or country of origin.

Return to Home Page