LESSON   4
<![if !vml]>

<![endif]>
MEASURES OF DISEASE FREQUENCY
<![if !vml]>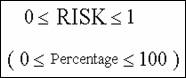 <![endif]>
<![if !vml]>

<![endif]>
Different periods of time of follow-up
Dynamic population (Open population in EKS)
Fixed cohort (Closed Cohort in EKS)
Example with 12 initially disease-free subjects followed over a 5-year period from 1990 to 1995.
<![if !vml]>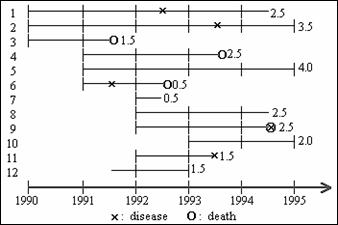 <![endif]>
X denotes time subject diagnosed with the disease and a circle (O) denotes time of death that could be due to the disease (circle with an X inside) or due to another cause (circle without an X).   "Shifting" the cohort:
<![if !vml]>

<![endif]>
          0 < Risk < 1
0 < Rate < <![if !vml]>

<![endif]>
When planning an epidemiologic study, which measure to use, risk or rate?
Point Prevalence
          <![if !vml]>

<![endif]>
Example
          <![if !vml]>

<![endif]>
Period Prevalence
          <![if !vml]>

<![endif]>
<![if !vml]>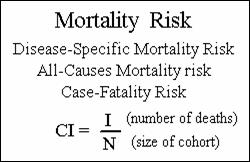 <![endif]>